14th Annual Summer Tabla Workshop with Shawn Mativetsky
Hosted by the Schulich School of Music of McGill UniversityMontreal, QC, CanadaJuly 1-7, 2024

During this intensive hands-on workshop, participants will learn tabla in the tradition of the Benares (Varanasi) gharana. The workshop is open to all levels (beginner, intermediate, advanced). The schedule includes daily group practice sessions, group classes, and special topic sessions. Classes are scheduled during the daytime (the detailed schedule will be made available to participants in June). Students will live and breathe tabla for the duration of the workshop!
Tuition is $450 (Canadian funds) and is due by May 25, 2024. Students must provide their own tabla. If you don't already own a set, please contact Shawn, and he will be happy to assist you.
Early registration discount - register by April 1, and benefit from a reduced tuition rate of $400; a $50 savings.
For participants from out of town, reasonably priced accommodations are available at the McGill Royal Victoria College (RVC) residences, conveniently located next door to the Schulich School of Music.
For more information, or to register, please contact Shawn Mativetsky.
14e Atelier annuel de Tabla avec Shawn Mativetsky
À l'École de musique Schulich de l'Université McGill
Montréal, QC, Canada
Du 1 au 7 juillet 2024

Lors de cet atelier intensif les participants apprendront le tabla, instrument de percussion de l'Inde du Nord, selon la tradition du gharana de tabla de Bénarès (Vârânasî).  L'atelier est ouvert à tous les niveaux (débutant, intermédiaire, avancé). Le programme inclut des sessions quotidiennes de pratique en groupe, leçons, et séances d'écoute de répertoire musical. Les cours auront lieu pendant la journée. Venez vibrer aux rythmes du tabla!
Tarif : 450$ payable le 25 mai 2024. Les étudiants doivent fournir leur propre tabla. Si vous n'en possédez pas déjà, s'il-vous-plaît contacter Shawn. Il sera heureux de vous aider. Inscrivez-vous avant le 1e avril pour bénéficier d'un rabais de $50.
Pour les participants venant de l'extérieur, des hébergements abordables sont disponibles aux résidences Royal Victoria College de l'Université McGill, situés à côté de l'École de musique Schulich.
Pour de plus amples informations, ou pour vous inscrire, s'il-vous-plaît contacter Shawn Mativetsky.
| | | |
| --- | --- | --- |
| Guru-ji (Pandit Sharda Sahai-ji) on the steps of the Schulich School of Music of McGill University, during his 25th Annual Summer Tabla Workshop in 2006. I endeavor to continue this tradition of annual summer tabla workshops, inspired by Guru-ji's and percussionist Bob Becker's initiative which began in the 1980s. | | Guru-ji (Pandit Sharda Sahai-ji) sur les marches de l'École de musique Schulich de l'Université McGill, durant la 25e édition de son stage d'été de tabla en 2006. Je souhaite continuer cette tradition d'ateliers annuels de tabla, débutée dans les années 80 par Guru-ji et le percussionniste Bob Becker. |
The summer tabla workshop is an intensive, immersive experience. Here is a little taste of what to expect:
L'atelier de tabla estival est une expérience immersive et intensive. Voici un petit avant-goût de ce à quoi vous pouvez vous attendre:
 
Group Tabla Classes (6 hours)
Cours de groupe (6 heures)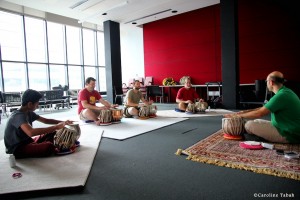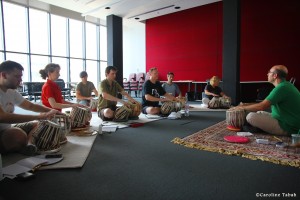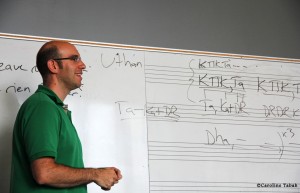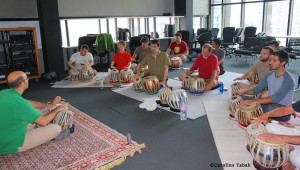 Daily Group Practice Sessions (2 hours each)
Sessions quotidiennes de pratique en groupe (2 heures chaque)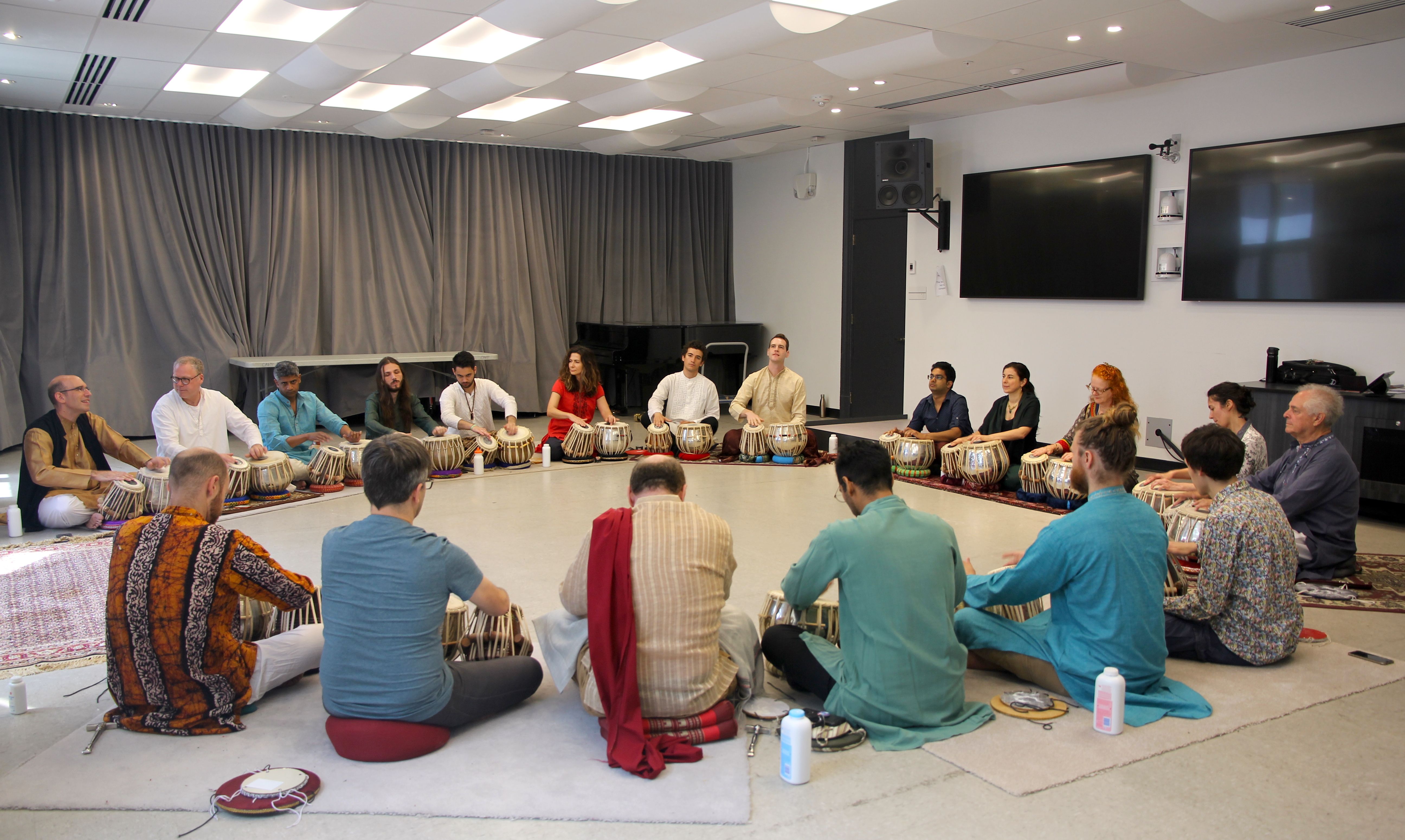 Special Topic Sessions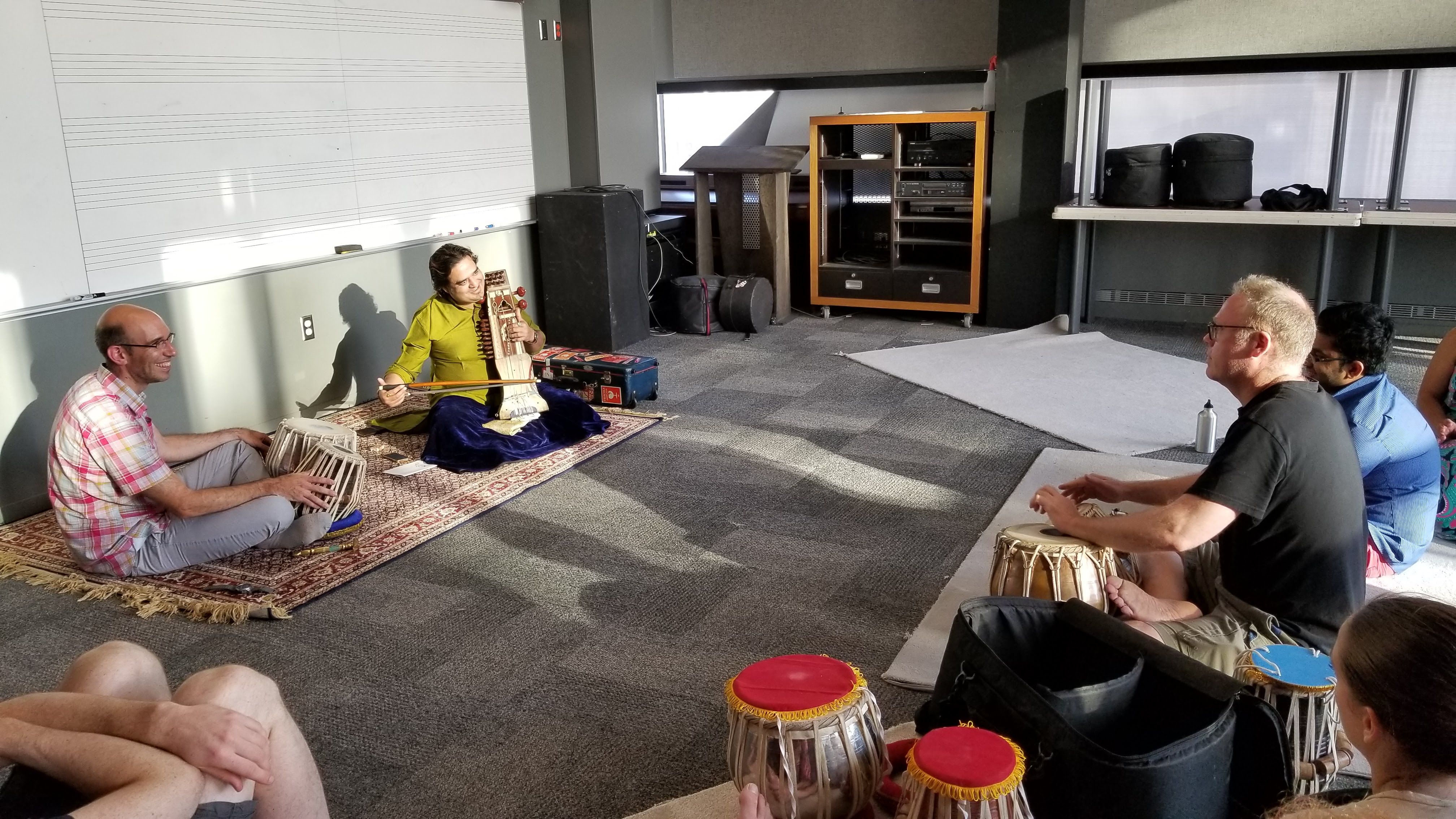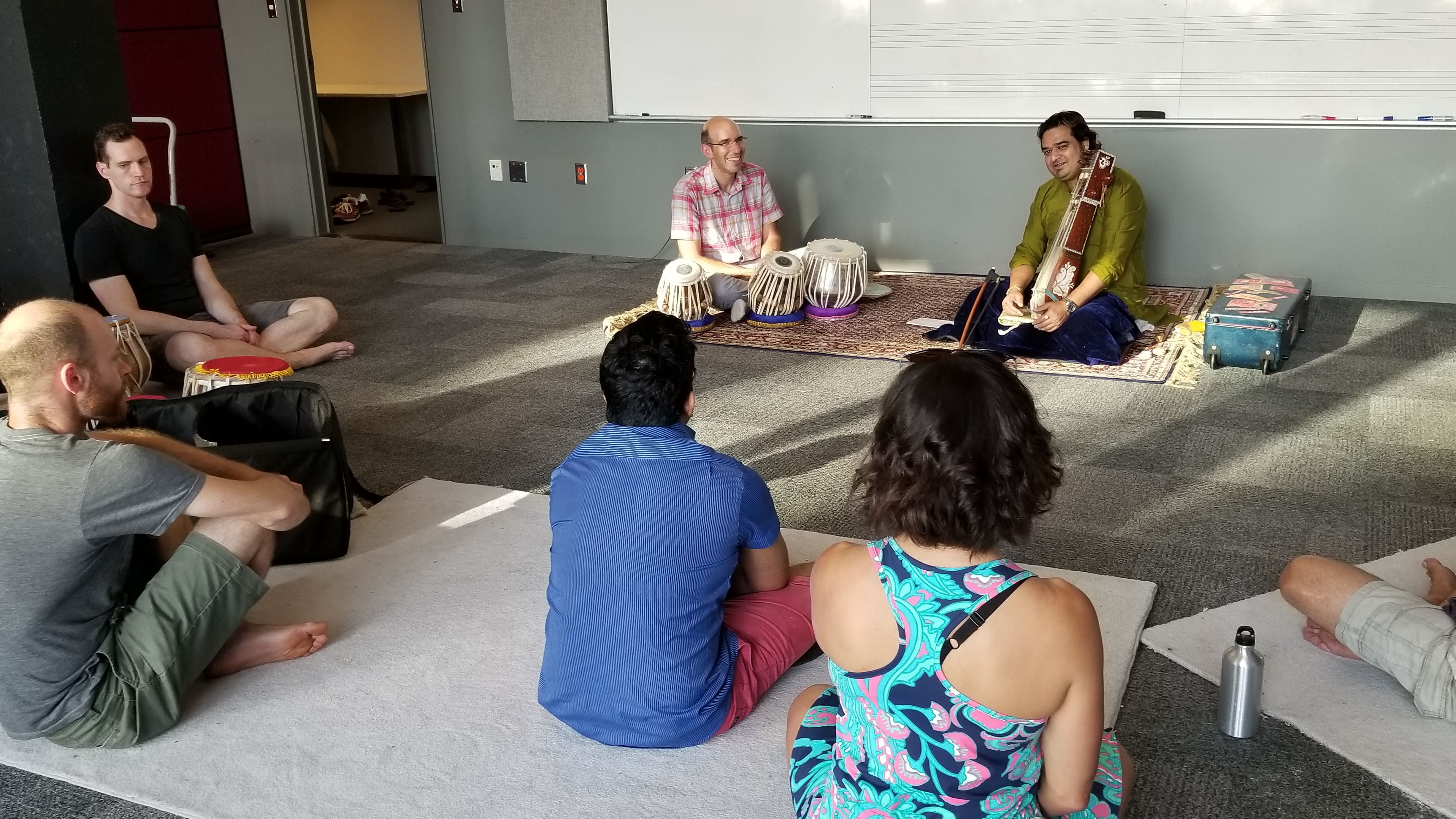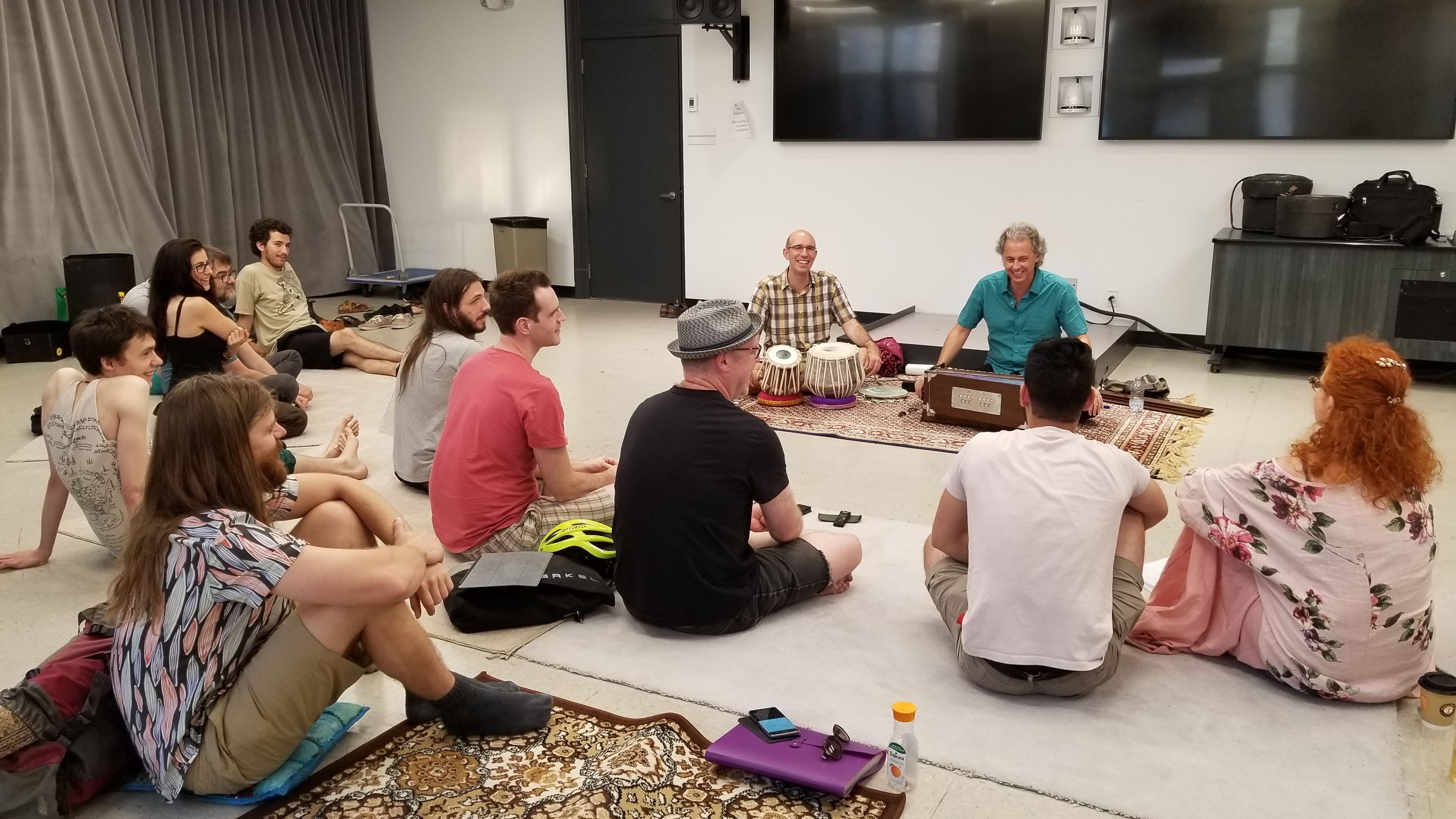 ...and having fun, and making new friends!
…et surtout beaucoup de plaisir!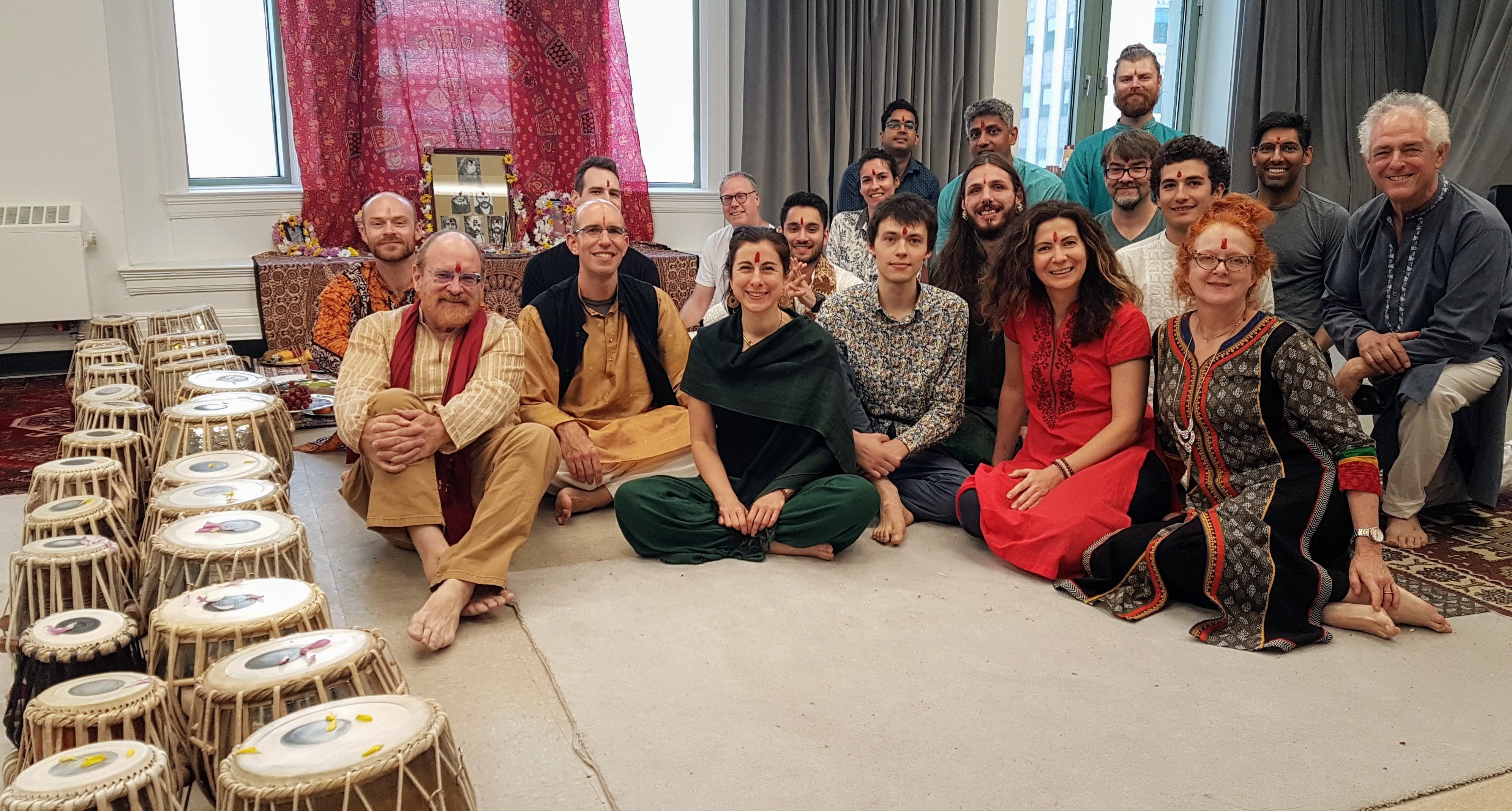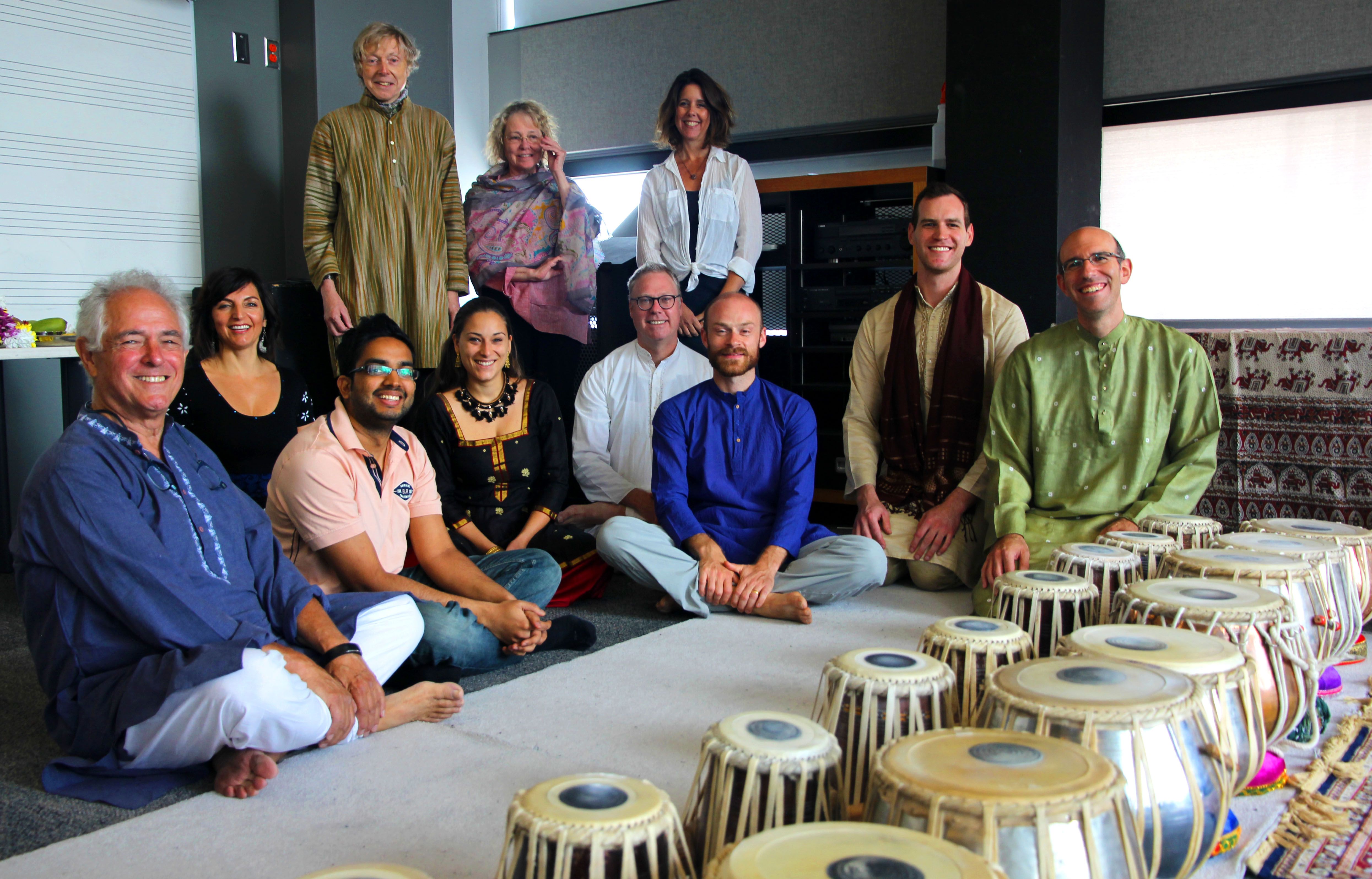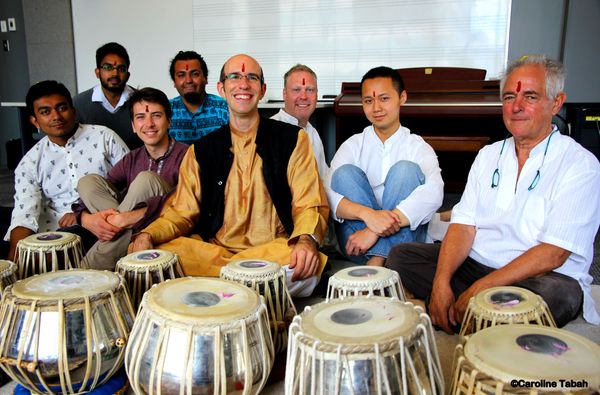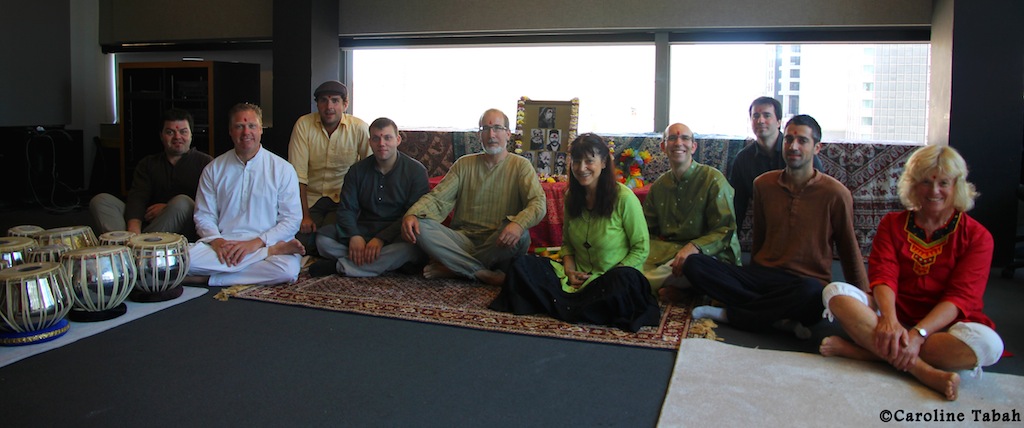 Feedback from students:
Témoignages d'appréciation:
"Merci beaucoup à Shawn Mativetsky pour cette merveilleuse semaine. Merci de ta patience et de ta discipline. J'ai grandement apprécié ce fantastique atelier! Tu es un super prof! Quelle chance extraordinaire de t'avoir ici à Montréal!" - Martin
"Merci Shawn Mativetsky pour ce magnifique Tabla Workshop. J'ai adoré ma semaine, beaucoup d'informations, beaucoup de travails, beaucoup de plaisir. You are a great teacher, Guru Shawn Mativetsky. Thanks for sharing your passion with us the way you are doing it. Last time I took a music classes, I was in grade 5.... And you made me feel at home with all those amazing people around. Thank You. I am sure your Guru is proud of you and the way you pass on the Benares tradition." - Yanick